Spring is finally in the air for this Canadian and I figured, there is no better way for the LOVELANDER project to bloom into the season than with the couple who defied the dastardly Brown family. They rode off into the sunrise-ish together. (We will have to wait and see if we get anymore of their saga later on.)
I do these interviews to give you the people behind the characters. Their careers rarely start with Outlander and they most definitely will not end with it. This fandom of ours has a way of following the lives of cast members so it is my hope #TheLOVELANDERProject helps do that. I am going to start with Jon Tarcy, aka Isaiah Morton, as we were introduced to his character first.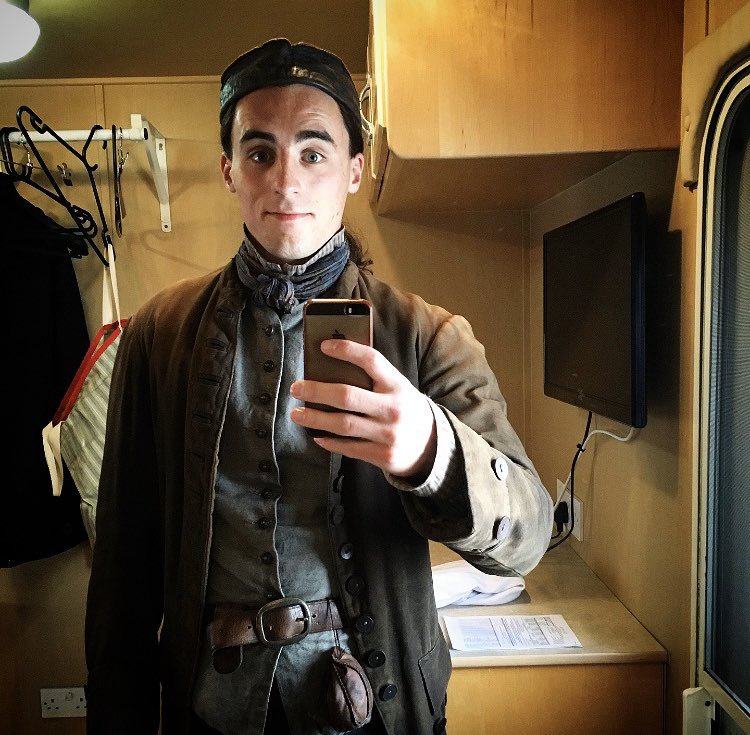 The Isaiah Morton/Alicia Brown story was one I wasn't sure we were going to get to see on screen but I was delighted, as were many other fans that these characters were introduced.
I admit 'the Isaiah' I had perceived from the books wasn't quite as dashing or balsy as the Isaiah who showed up on screen but I am not complaining. I give all the credit to that discrepancy to the man playing him, Jon Tarcy.
At 6'1″ and a stage presence that has landed him roles such as Rolf in the live TV version of The Sound of Music in 2015; in 2017, Jon ruled the stage with the Royal Shakespeare Company in the productions of Titus Andronicus playing Alarbus, Octavius in Julius Caesar and also tackling Demetrius in Antony and Cleopatra.
Jon grew up along the River Thames in a borough of London called Kingston-Upon-Thames,. He has a close relationship with his younger sister, Emma and brought her into his world of make believe very early.
Many actors had a flare for performance at a young age, is the same true for you? Like a lot of kids, I was performing weekly shows in the living room for my family when I was about 4 or 5 – magic shows were a particular favourite, with my sister always being recruited to play the magician's assistant. That led on to me getting involved in as much drama as I possibly could at school, but it wasn't until I was in a teenager that I started to think this was something I could do as a career, and my family have been hugely supportive ever since.
It is apparent your talent and their support was a winning combination. As I was looking through your previous achievements, including the ones I already mentioned, you played Tony in West Side Story. You have an incredible singing voice. Hey guys, don't take my word for it, see for yourself in this video of Jon and Christina Bennington.
That video shows how strong your sing voice is, was that something that has always been a passion? Thank you! Yes, Singing has always been something that I've loved to do. I was in a church choir when I was younger singing a lot of classical music, but then as I started to perform in school shows I fell in love with Musical Theatre (Playing Marius in Les Misérables and Sweeney in Sweeney Todd were real highlights!). When I was 15 I gained a place at the National Youth Music Theatre which really helped propel me towards singing professionally, and I've always looked for opportunities to combine my acting and singing ever since.
Theatre has such a rich history in the UK and you firmly embedded in it. What is it about theatre that you love? Theatre is a great passion of mine and I've loved all of the roles I've played thus far. I particularly enjoyed my time with the Royal Shakespeare Company – it's such a fantastic training ground for a young actor and was a huge dream of mine to be part of that company. I've also really enjoyed working on the development of new projects, whether that be a new pop musical or adaptation of a novel, it's always very exciting to be in the rehearsal room in those early stages.
When we are creative people, we tend to gravitate to certain performances or people, do any stand out for you? I think it can be anything or anyone. It can be just as inspiring to go and see an incredible performance in the theatre or on TV, as it can be to go to a gallery or listen to an album. Particular people who I'm currently inspired by are: John Owen Jones, Donald Glover, Phoebe Waller-Bridge, & Mark Duplass.
I obsess over Phoebe Waller-Bridge. Everything she has done, or will do. I seem to do that, obsess. You of course, seem much more laid back in your enjoyment of entertainment.
Fans following you on Instagram will be able to tell you have a love of travel, do you have a top three favourite locations you have visited? Oh that's a good question. I'm not sure I have a top three, but my most recent adventure (pre-covid) was a trek to see the incredible Mountain Gorillas in Uganda. Something I'll certainly never forget!
That sounds so majestic and a little bit terrifying. Is there a destination still on your must see list? I'd love to go to Madagascar, but I'm also keen to go to South America….there's just so many places, I can't decide! The UK is also a brilliant place to travel, and there are so many places I'm still to tick off my bucket list here.
It's my understanding the Outlander production was becoming fairly well known to the industry in the UK, had you heard of it before you auditioned? Yes I had, and I'd heard such lovely things about the show & the team so it was really exciting to audition for it. Had you auditioned for any other roles besides Isaiah? No I hadn't. What was that process like? My agent had organised for me to send in a tape for the role of Isaiah, and I then had a recall in person with the brilliant casting director Suzanne Smith. A few weeks later when I heard I got the part I was absolutely over the moon and couldn't wait to get started.
Did you read the book at all to get the back story of Isaiah? For a bigamist, he is a pretty decent guy. I mean, the Brown's weren't the best choice of 'second family' but you can't win them all. I did, I really enjoyed reading 'The Fiery Cross' and it was important for me to read all of that extra detail about the character that Diana Gabaldon describes in her fantastic books.
I admitted your portrayal of Isaiah came off as much stronger than I gave him as a reader of the books. You gave him a certain dignity that I believe bolstered him. How did you prepare? I did quite a lot of work on the accent (I'm not originally from Scotland sadly), and read up on the history of the period that the show is set. How would you describe Isaiah? I would describe Isaiah as a someone who follows his heart, but doesn't always think first with his head….
Seems to be a "I'm an Outlander character characteristic". One of the scenes I cheered on your performance was when Isaiah, in essence told Jamie and Roger off. Was it tricky to play that scene when you have only spent brief moments together on screen with Alicia? It really wasn't hard at all. Anna Burnett who plays Alicia was a joy to work with and we had a lot of fun shooting episode 4.
What were your favourite scenes to shoot? I loved all of the scenes I shot on the show. I guess highlights were, the scene you describe above with Jamie, Roger and Claire, and the night scene where Isaiah pulled a gun on Jamie. I learnt so much performing scenes with all of those actors, and Isaiah's journey in those scenes was particularly fun to play.
They were equally enjoyable to watch. It's always fun to see other characters to get one up on the shows lead characters. Were there any other experiences that you felt you learned something new on set? Horse riding was a big one. I hadn't done that before so was a little nervous, but the brilliant horse team (including Olly, Matt and Leah) up in Scotland trained me up, and I was riding in no time.
When in good hands we are capable of great things! It is pretty sweet when we can learn not only a new skill but an recreational activity while we are getting paid.
What are 3 things you do to relax? Swimming, watching movies and, as of recently in lockdown, playing a lot of chess.
Given your character Isaiah penchant for love and that spring is in the air, would you consider yourself the romantic type? I absolutely am – put me in front of the movies 'Before Sunrise' or 'Before Sunset' and I'm a total mess.
What would you say the most romantic thing you have done or had done for you was? Now I'm not sure I've answered the previous question right, as I can't think of many sweeping romantic gestures I've done. Perhaps I need to plan a few more surprises….
We could all probably do with a few more of those. I would say Isaiah played his cards right when it came to Alicia.
Speaking of Alicia Brown…Anna Burnett had the very tough job of bringing this young lady to life in such a short amount of time. It was her job to first, ingratiate her self to viewers so we would connect to her plight without judging her. As many know, Outlander fans are tough nuts to crack in that respect. Anna then had the task of making us root for Alicia. It was up to her to have us wanting Alicia to escape the misogynist patriarchal Brownsville thumb she was held by and run away with Isaiah. A man who we find out is for all intents and purposes, a bigamist.
Anna, take a bow. Well played.
Anna grew up London and like many young actors her love of the arts started in school. It was the drama department that sparked her interest. She began taking drama classes on the weekends and from there, the auditions came along. The rest is 'herstory'.
Your first job listed on IMDB is the series Jonathan Creek , the next year you went on to star in The Falling, which is such a fantastic film. Two obviously distinct experiences for you, can you share what those were like? They were both brilliant, but very different. I filmed Jonathan Creek over a few days, but for The Falling a group of us all lived in a house together in the countryside for 4 weeks. The director Carol Morley is an incredible filmmaker, and the cast and crew on The Falling were almost all female, which was hugely inspiring for all of us as young actresses. We would film Sunday to Thursday, and on Fridays I would be back at school trying desperately to catch up with my schoolwork! It was my first experience of spending a long period of time on one job, and I couldn't have asked for a better one.
You have worked with what I would guess are some inspiring actors (Maxine Peake, Gary Oldman, Kristin Scott Thomas – to name a few), have you taken advice or picked up something you feel has made you better at your craft? I think with every job I've done I've learnt something new. Just being able to watch these actors do their work has taught me a lot, and there's so much I've picked up from working with such brilliant people. Being kind and keeping a good sense of humour definitely goes a long way, and that's something that the cast of Outlander does so well!
Since you brought it up *wink*, let's turn to your Outlander experience. What was that process was like for you? I was really lucky to meet both Suzanne Smith, the casting director, and Jamie Payne, the director, during the audition process for Outlander. Alicia is a character that really wears her heart on her sleeve and doesn't hold back, so it was liberating to really throw myself into Alicia's emotional side as well as her complete determination during the audition. That's what I loved about playing her too, the fact that she's so open and wild, completely guided by her heart. It was great to read the source material alongside the script to really build a picture for myself of who the Browns were and what Alicia's place was in their world.
I must say, for the little time Alicia is given, you were able to portray her deep sadness convincingly. You gave Jon (Isaiah) the perfect amount of dedication to not make it overblown or dramatic. I was impressed by your ability to convey your emotions with limited dialogue. Is there a secret to this or are you just that good? *smile* Thank you! I think the secret is working with great actors! With such an intense storyline, it was amazing to work with actors who are so generous and skilled. It always felt like we were working together as a team, and the friendly atmosphere on set really put everyone at ease. I think that made our jobs ten times easier.
Speaking of that, many of the cast on Outlander speak about how easy going everyone is, how it feels like a family on set. That's completely true! I always think that the lead actors on any project really set the tone for everyone on set, and Caitriona and Sam were constantly upbeat and welcoming to everyone throughout. All of the cast and crew were so easy to work with and I was definitely sad to say goodbye when my filming time was up!
You had intense scenes with Caitriona Balfe, which to your credit, you shone in. I cannot imagine what that would be like, a regular day on the job or super intimidating? Although it was such a big show to be a part of, Caitriona made me feel so welcome and at ease on set. She's such a fantastic actor, I was really lucky to work alongside her and loved doing our scenes together.
Do you have a most memorable moment from your time on set? I think, apart from all the fun we had, one moment that sticks in my mind was from my last day on set. It was a sunny day (which was rare during filming!!) and we were shooting the scene towards the end of the episode where Alicia and Isaiah escape. All Jon (Isaiah) and I did all morning was sit on this beautiful horse in the sunshine – lush!
We are still living through this pandemic life. I am going to wrap up by asking some fun and fluffy questions that might ignite fans into reading or watching something new.
What was the last book you read? The last book I read is called 'I Am Not Your Baby Mother' by Candice Brathwaite. It's a non-fiction book about being a Black mother in Britain and it was so thought-provoking and moving, I would highly recommend it to everyone. Sounds like a must read. This goes on my reading line-up, for sure.
Many of us have been doing a lot of binge watching. What was the last show that trapped you? The last show I binge watched was a brilliant Australian show called Upright. It's only short, and once you settle into it, it really takes you along and makes you care so much for the characters.
Tick! Added to my watchlist. Now, what are three shows you think everyone needs to put on their watchlist? And 3 shows everyone has to watch are Succession, Normal People and Euphoria!
AGREED! It's nice to have the same taste as a young and talented woman. Makes me feel good about myself.
As Outlander fans, we should all continue to thank Suzanne Smith for always casting humans that dive into their roles with all that they are. They take the time to breathe life into them, give them a depth we can be grateful for. Without a strong, vibrant supporting cast building these stories Outlander's main cast would be stretched too thin.
I want to thank both Jon and Anna for taking time out of their busy lives to join #TheLOVELANDERProject and make our days a little brighter. This fandom is a lucky bunch. We have so many things to keep our thirst quenched this Droughtlander, friends!
I'm doing a WATCH PARTY podcast with my sister. We have released all of Season 1 and Season 2 so far. Every Monday and Thursday we drop another episode. You can find the SIssues Podcast on any of your podcast providers and You Tube. Follow us on IG, FB, Twitter or our website.
Until next time, Sher xo
If you have missed #TheLOVELANDERProject interviews, here are the links. Edition 1 Vida/Blancklanderz Edition 2 Erin/Three if By Space CastEdition 3 Vincent/Supporting Artist Edition 4 Tracy/Outcandour Cast Edition 5 Nell Hudson/Laoghaire Cast Edition 6 A Quickie w Kikki Fleming/ Lesley Edition 7 Koko/Outlandish Vancouver Cast Edition 8 Paul Gorman/Josiah and Kezzie Beardsley Edition 9 Chas/ Outlandish Scotland Edition 10 Barry Waldo/ Writer, Producer & husband of Jon Gary Steele Outlander Production Designer Cast Edition 10 Stephen Walters/Angus Mhor
ABOotlander LOve – Previous Interviews – Julia LeBlanc/VideoQueen Summer & Ginger from Outlander Podcast Cast Dr.Joe Abernathy/Wil Johnson Cast Adrienne-Marie/Suzette Beth Wesson/@PixieTwit Connie Verzak@ConnieBV Karmen @OutLandAnatomy Jane @RRankinFans Cast Sera-Lys McArthur /Johiehon Cast Carmen Moore /Wahkatiiosta Cast KikkiFleming/ Lesley